CRM in 2011 - Social, Mobile & in the Cloud - Panel Discussion
by Brent Frei
Over half of our customers use Smartsheet for some CRM-related function. Some use it for all their customer-focused operations. The following graph shows the the category of use for Smartsheets as a percentage of all sheets. More than 30% of the sheets in operation are for CRM-related purposes.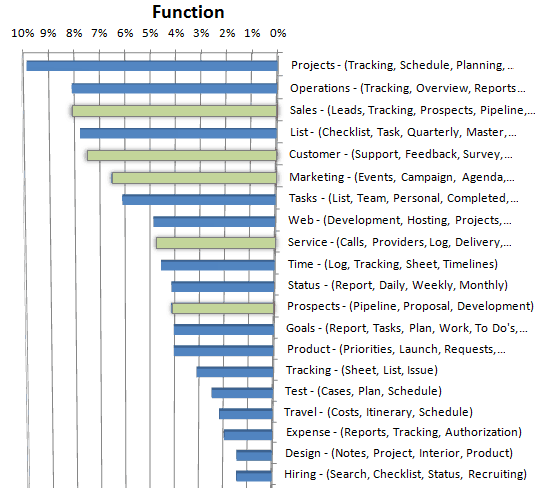 Our team has a deep background in CRM applications from our past lives that makes some of the changes in CRM particularly interesting. We'll be sharing some of those thoughts during a panel discussion this Friday. It's open to all. Please sign up and check it out.
WHEN: January 14, 2011
WHERE
Toll-free Dial-In Number: (866) 951-1151
International Dial-In Number: (201) 590-2255
Conference # : 4999006
WHAT
Join us for this roundtable teleconference on January 14th at 11am PT/2pm ET with Brent Frei, Chris Selland, Christine Perkett, Jeff Nolan and Martin Schneider to discuss CRM in 2011. Topics include:
How the definition of CRM is broadening to support functions across the business
Key enablers and new capabilities for the new CRM - Social, Mobile & in the Cloud
The state of the CRM market and the keys to success
To follow the conversation and to submit your own questions use keyword FocusCRMRT on Focus.com and #FocusRT on Twitter.
Moderator:
Chris Selland, Managing Director , Selland Capital
Panelists:
Brent Frei, Executive Chairman, Smartsheet
Christine Perkett, CEO, Founder, PerkettPR
Jeff Nolan, VP Product Marketing, Get Satisfaction
Martin Schneider, Director, Product Marketing, SugarCRM
Please feel free to RSVP on our LinkedIn event page via the REGISTER button below.
Join us on the call,
- Brent Frei
Categories