VMware - Zimbra gets Project Management courtesy of Smartsheet
by Brent Frei on August 31, 2010
Smartsheet is now available inside VMware's Zimbra Email solution. Adding the Smartsheet Zimlet from the Zimbra Gallery weaves online project management, sales pipelines, issue tracking, event management and crowdsourcing into Zimbra's email and calendar services. Smartsheet continues the push into next-generation applications that operate inside email services.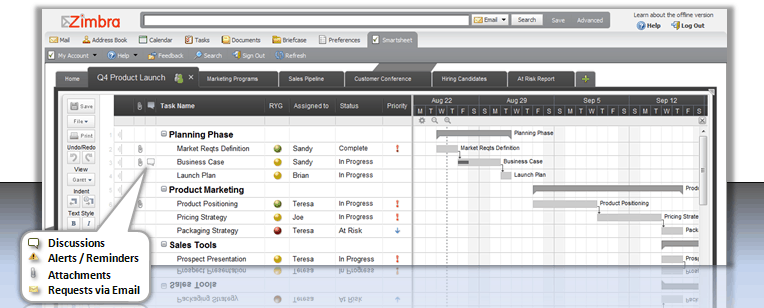 Embedding your productivity tools inside Zimbra's e-mail makes a lot of sense. Many of us live in e-mail and continue to do so despite all the collaboration options out available. Smartsheet puts a familiar spreadsheet-like face on a flexible work automation engine.
Work projects often begin their life as a spreadsheet (e.g. sales pipelines, marketing events, research projects, product plans, candidate tracking,…) that gets emailed around to be updated. Often, this approach falls short, and companies then invest money and training in converting to a software specific to Project Management, CRM, Marketing Automation, HR, etc. To the millions of Zimbra users – keep the spreadsheet layout you like and gain the additional automation you need. Smartsheet gives you a familiar, flexible spreadsheet interface and enables you to:
Attach any file or Zimbra Briefcase item to any row
Create multiple levels of sub-tasks
Track threaded

comment

on any row
See your sheet in Calendar and Gantt views
Set Alerts and Notification on any row that keep you abreast of changes happening
Get discrete updates on pieces of your sheet via email
Get a consolidated report across many sheets
It's the perfect union between spreadsheets, project tools and file sharing sites.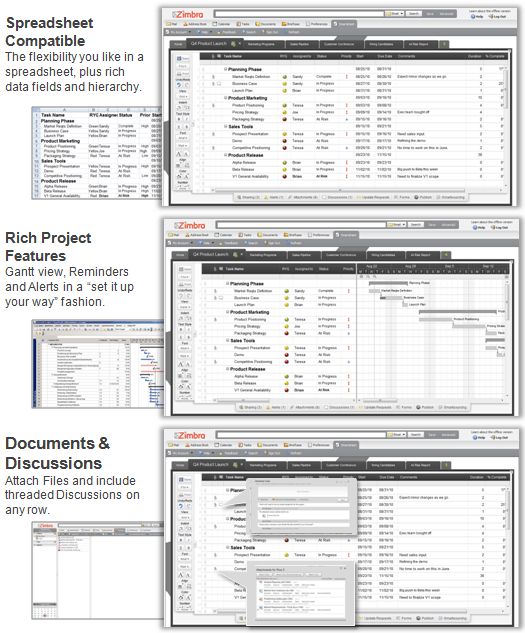 A while back, I wrote a guest post for VentureBeat entitled, "Who will be the small business super portal?" In that post, I noted Google, Intuit, and Salesforce.com as the major players in the race to become the gorilla of application marketplaces. Add VMware to that list.
VMware anchors its application ecosystem with Zimbra Mail. As Smartsheet has discovered via our very productive integration in the Google Apps Marketplace, email serves as a superb core application for integrated tools.
The Smartsheet Zimlet is now available in the Zimbra Gallery. Enjoy managing your work from within email. The Smartsheet-Zimbra combination is an excellent experience.
- Brent Frei
Categories