Product Update - Google Calendar Integration
by Eric Browne on May 17, 2010
On the product front, we've added integration between Smartsheet and your favorite calendar (Google, Outlook, Apple, etc.). Our goal is to help you get more done, whether that means being logged in to Smartsheet on your computer or mobile device, viewing key tasks in your calendar, or living in email, so calendar integration was an obvious next step.

Building on our previous Google Apps integration (single sign-in, Google Docs), we're happy to add Google Calendar sync, which includes the ability to:
Publish dates from a Smartsheet project, sales pipeline, or task list to Google Calendar
Update Smartsheet items from within Google Calendar
Overlay a Google calendar into a Smartsheet Calendar view.

In addition, there's an iCal Publish option which let's you subscribe to any Smartsheet from Outlook, Apple iCal or other calendars. To sync your Smartsheet with your personal calendar, go to the Smartsheet Calendar view and look for the buttons in the lower left corner.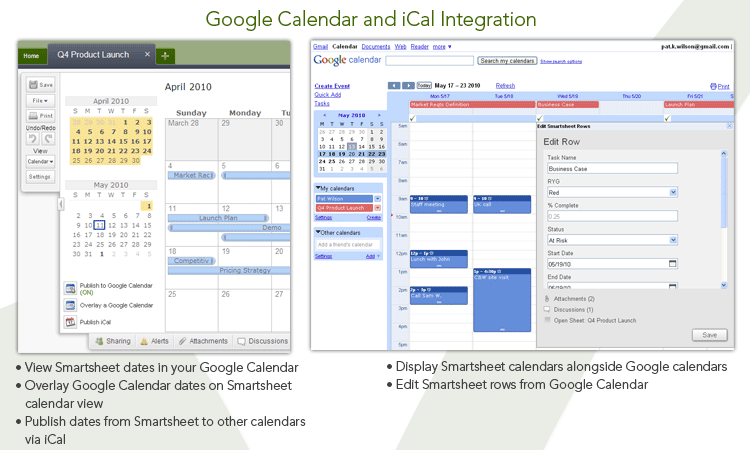 Stay tuned for more on the product improvement front. Some great things are planned for our upcoming releases!
Categories