Event Management: Details, Details
by Mark Mader on March 15, 2011

Anyone who's ever planned an event knows the devil is in the details. And whether it's a wedding, a fundraising gala, a grand opening or a trade show launch, it can mean thousands of details.
Event managers' success relies on being well-organized; planning and tracking details for RSVP's, vendors, on-site deadlines/technology, contracts, attendee counts, giveaways, shipping logistics, PR interviews, speaker details and such is critical.
Many Smartsheet customers, including Twin Cities Habitat for Humanity and PR Chicago, rely on our online project management tool to keep their event details organized and to collaborate easily with clients, vendors and team members. Here's what they tell us makes all the difference for them:
Using the Smartforms:
To collect RSVPs from hundreds of VIPs (board, major donors, sponsors, and public officials) for a week of events as part of the 27th Annual Jimmy and Rosalynn Carter Work Project in the Minneapolis-St. Paul metro in October 2010, Twin Cities Habitat for Humanity used Smartsheet's Smartforms. The web-based forms were used to collect the VIP response information to their participation in over seven events throughout the week. The forms automatically populate the data in a Smartsheet where it then can be used at check-in and for follow-up donor cultivation. "The beauty of using Smartforms to collect all the RSVP info is that the attendees and the Smartsheet do the work for you," said Brian Juntti, Director of Marketing and Communications.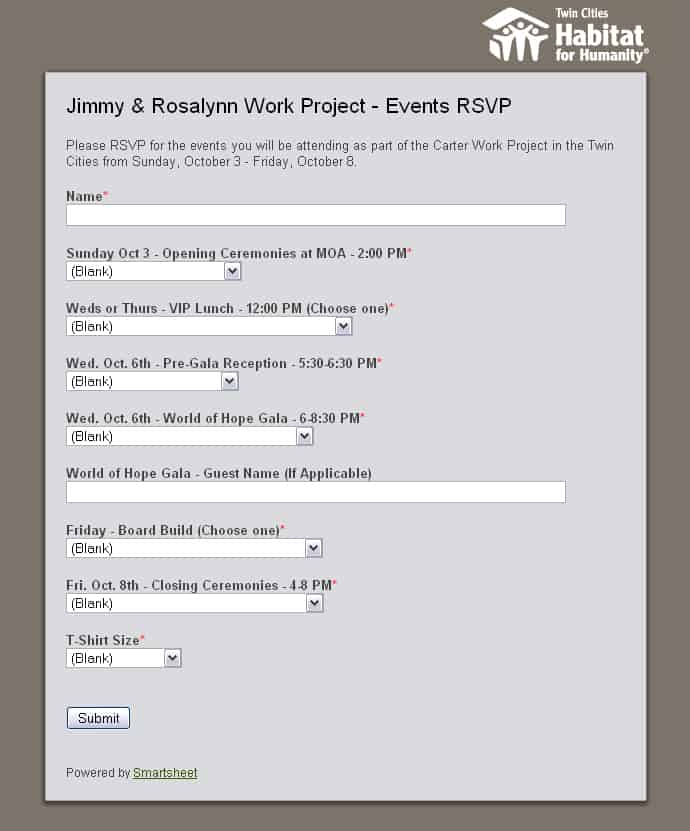 Immediate, real-time access
PR Chicago orchestrated grand openings for 140 different 7-Eleven convenience stores in the Chicago area. It meant hiring and training teams to work the events and coordinating all the different tasks for each location. Being able to have immediate access to all the various team and store information, calendars, media outreach, giveaways, and more "saved our sanity," said Toni Antonetti, President. "Having all the details of all the events at our fingertips kept the events running smoothly."
Share a row, share a sheet
Because it's a cloud-based SaaS app, collaborating with others outside the core team is easy. "I send individual rows to vendors for them to update certain aspects of events. They can input data, attach files, or make notes and it's automatically fed back into our Smartsheets. It makes my team more productive to not have to jump in and out of email to collect this info." Antonetti's team also shares critical rows with their clients, which gives them the visibility and confidence that everything is on track.

Set alerts and notifications
When others do make changes in the event sheets, being notified is essential. Twin Cities Habitat for Humanity sets alerts on specific rows so as information is changed, such as when volunteer photographers upload photos to a Smartsheet, team members are notified via email. "My staff can then post these pictures on the Website or on our social media sites immediately," added Juntti. "It shaves off hours of time emailing them around."
Additionally, event managers use Smartsheet to:
Collect onsite workers' hours or gather attendee feedback in Smartforms
Share graphics, booth specs, comps and review feedback
Create PR and media lists, outreach schedules and coverage
Manage event schedules and team calendars
Attach quotes, contracts and other docs
Share rows with vendors for easy updating
Run summary reports across multiple events
Using Smartsheet could be the answer to successfully manage your next event. Give it a try and let us know the details!
- Mark
Categories