Smartsheet Simplifies Collection of Employee Census Data
by Mark Mader on August 12, 2009
Gathering employee census data is an annual requirement for most companies. Insurance brokers request census information so insurance carriers can issue rate quotes for health insurance. It's an administration-heavy process to manage - and one that is vastly simplified using Smartsheet.
By managing the census gathering process using Smartsheet and its Smartform (survey form) functionality, you can reduce total administration effort by 80%. Whether you are an overloaded HR professional or a small business owner who prefers selling over administering, Smartsheet provides a dead-simple way to get this done.
Here is the 3 step process:
Step 1 - Create an Employee Census Sheet in Smartsheet
You can create your census sheet from scratch or use the pre-built (and configurable) Employee Census Template that Smartsheet provides. To use the template, login and search on "Census" in Home Tab > Template Library. The template contains the following fields by default:
Employee Name
Eligibility for Benefits (checkbox)
Date of birth (date field)
Gender (drop-down)
Coverage Desired (drop-down)
Number of children (drop-down)
Zip Code
Date of hire (date field)
Annual Salary
Employee's title
Employee's work location

Step 2 - Enable the Survey Form for your Employee Census Data
Using the Smartsheet Smartform feature (click the Smartform options link located in the sheet's Sharing tab), it is possible to create an employee survey form that contains a subset of the fields listed in the sheet. In this example, eligibility for benefits, salary data, title, and work location are not included in the survey form and would be completed by those responsible for the census collection process. Similar to online survey tools like Survey Monkey and Zoomerang, Smartforms provide extensive control over the survey form, including marking fields as required, providing help text, and including default values. Unlike other survey tools, it also provides the option to allow a respondent to upload a file via a survey form.
TIP: to display your brand and color settings on your survey, click the Form options link and select 'Branded' under Form Colors & Logo.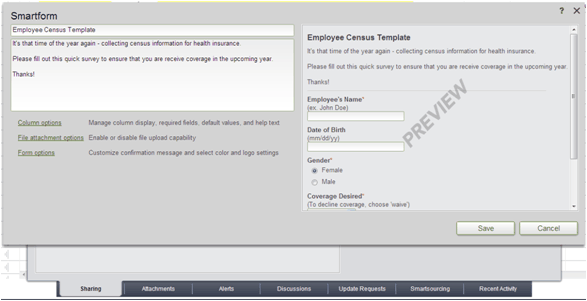 Step 3 - Distribute Employee Census Questionnaire
Once you have saved your Smartform options, you can embed the census survey to your intranet (any webpage for that matter) or send a URL to employees via e-mail. To include the URL in an e-mail, ctrl-c (copy), ctrl-v (paste) the smartform's URL from the sheet's Sharing tab into the body of the e-mail.
Using the Alerts feature, you can designate who receives e-mail notifications when employees submit their information. Those managing the process can then enter the additional employee information that was not collected via the survey form (annual salary, benefits eligibility, etc).
When employees click the survey URL, they see: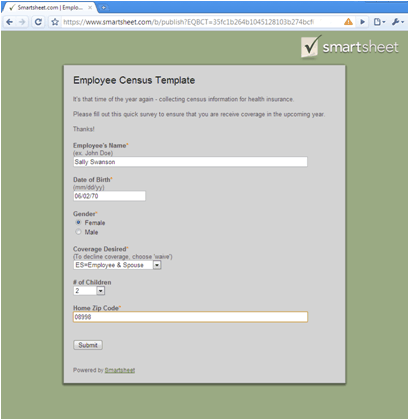 We just went through this census collection process internally. It worked like a charm.
One thing that neither the manager nor the employees missed? E-mails containing Excel attachments flying back and forth followed by the manual exercise of combining them into one (accurate) file that is sent to the insurance broker.
Simplify your employee census questionnaire process with Smartsheet - and enjoy having it checked off the list in record time.
-Mark
PS - Are you new to Smartsheet? Click this link to register for free trial account that is pre-populated with the Employee Census Template.
Categories