Smartsheet Tips: Using Google and Smartsheet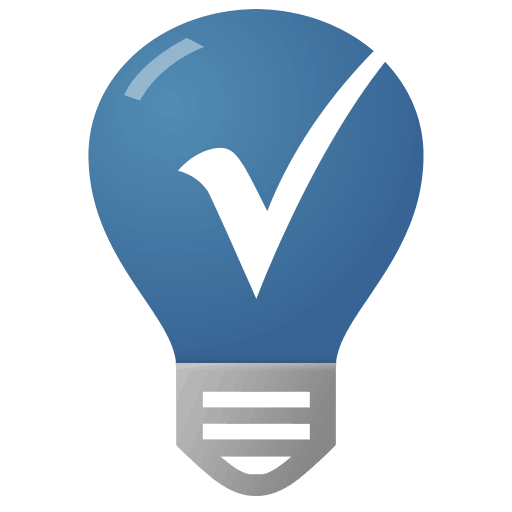 You know how peanut butter is really good on its own, but even better when you pair it with something else (like jelly, a banana, chocolate, a graham cracker...)? Smartsheet is like that too – pretty darn great on its own, but even better when you pair it with something else. Like Google Apps and Google Drive.

Since many of you use Google in addition to Smartsheet, this week we've got all the integration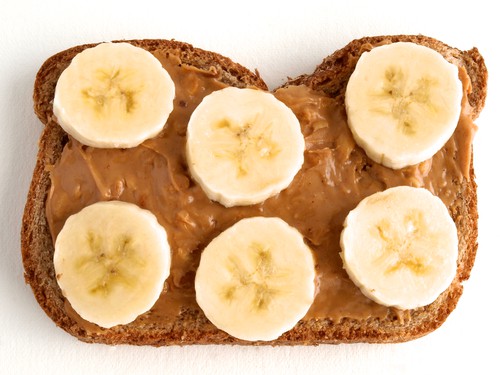 details for you.
Getting Started with Google Apps and Smartsheet
If you're using Google Apps, make sure you've downloaded our app from the G Suite Marketplace.
The Google Apps Admin for your domain just needs to click the 'Add it Now' button to install Smartsheet to your team's domain – and voila! Integration features will be accessible to everyone in your team.
Small note, the email address you use for your Smartsheet account needs to match your Google email address for the integration magic to work.
Integration Goodness – Here's What You Get
Update a sheet from your inbox. Once you have Smartsheet installed in your Google Apps account, the emails you get from Smartsheet now have extra functionality. Now when someone sends you a row or when you get a notification email, you can open and edit the row from within the email!
When you click the 'Edit Rows in Smartsheet' button, at the bottom of the Smartsheet email, you'll see the info from that row appear. You can update information, just like you would in Smartsheet, all without leaving your inbox.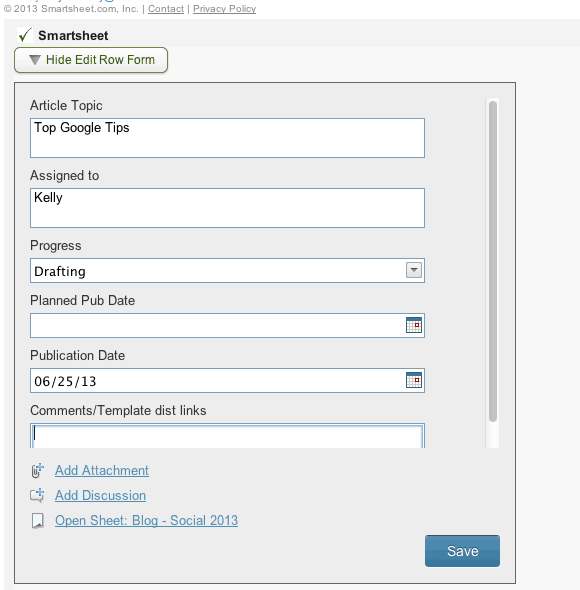 Make any changes you need to – add comment notes, attachments, the works. It all updates the sheet directly, no extra work.
Sync dates from your sheets with your Google Calendar. Switch to the Calendar View of any sheet and click the Google Calendar icon . Turn on 'Publish to a Google Calendar' and you're all set (here are step by step instructions in case you need a little more help publishing your sheet to your calendar).
Super simple way to keep all of your important dates in one place.
Edit your sheet straight from Google Calendar. When you publish a sheet to your Google Calendar, you can edit your sheet right in your calendar thanks to the Google integration.
After you publish a sheet to your Google Calendar, green check marks will pop up on dates in your calendar that reflect tasks from that sheet.
To edit that task from your calendar, all you have to do is click the green check mark – you'll be able to edit that row in your sheet in the same format that pops up when you make changes from a Gmail message.
Put the Pedal to the Metal in Google Drive
Google Drive users, we've got good news for you.
You can create new sheets in Smartsheet straight from Drive. First you need to install Smartsheet in your Chrome browser from the Chrome Store.
Next, all you need to do is click the Create button in Drive and you'll see Smartsheet added to the other creation options in Drive: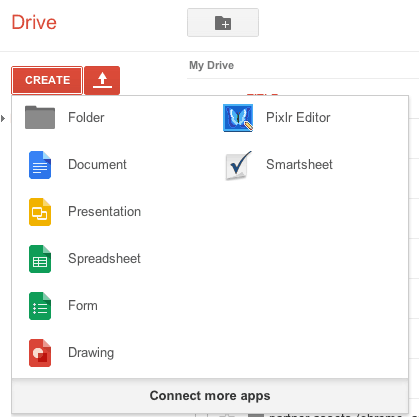 Now, you've got a new sheet in Smartsheet AND you can access this sheet directly from Drive.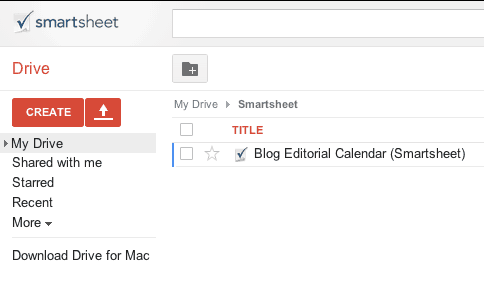 Even More Great Google Integration Features:
Launch Smartsheet from the 'More' menu in Google Apps (Gmail, Google Calendar, Google Drive, or Google Sites)
Overlay your Google Calendar on top of a sheet
Import contacts from Gmail to Smartsheet
Single sign-on to Smartsheet with your Google creds
Upload attachments from Google Drive to any row

Thinking about switching over to more cloud apps, but haven't 'Gone Google' yet? Our friends at BetterCloud recently published some great advice for transitioning and keeping up your team's momentum once you've made the move (by the way – totally worth it, the air up here is great).
Til next week, dig in and explore!
- Support Team
Categories