DECO Counts On Smartsheet for Paperless Onboarding
With Smartsheet and Zapier, Deco Windshield streamlined it's new employee process saving time and effort across all 140 locations.
For any enterprise, the effective hiring and training of talented employees is critical to success. Imagine the challenge for DECO Windshield Repair, a large Canadian company with a hiring and onboarding strategy that must flex around extreme weather.
Because harsh Northern winters keep the customer-facing side of the business closed for several months of the year, DECO -- with more than 140 locations across six provinces in Canada -- relies on a large seasonal field staff of more than 200 that requires a concerted recruiting and re-hiring effort each spring. DECO needed to streamline its new employee documentation and training processes to make most efficient use of the limited time available between hiring new staff and opening its windshield repair locations for new spring sales.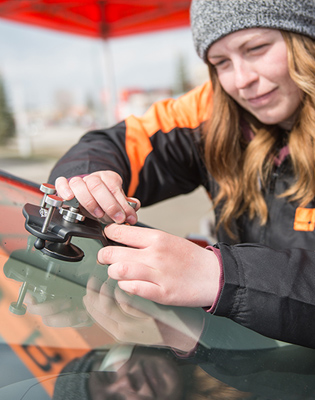 "We're a company that started with just two locations, and we've grown to over 140 locations across Canada," says Connor Chau, business systems manager for DECO Windshield Repair. "One of our main values and philosophies is continuous improvement, learning — innovation in all areas."
Chau started out as a field employee, when much of the company's recruiting and onboarding work was being done with pen and paper. Hiring managers read through reams of printed applications and resumes to confirm who met requirements such as having their own car. Location managers sat down with new hires to work through payroll paperwork and collect signatures, then handed them a thick stack of sales training materials to master before starting to work with customers. When he joined the corporate team, Chau knew that DECO could bring most if not all of this manual work into the digital era.
"A lot changes year to year," Chau says. "My role really is to make things as simple as possible on the back end, so that it doesn't complicate things for our employees in the field — or for the customer."
DECO was already using Smartsheet, but not as effectively as possible, Chau said. Administrative staff were creating sheets to simplify individual tasks but not connecting parts of larger processes. Seeing an opportunity to save time and effort, Chau dove into Smartsheet training resources to learn how linking sheets, filtering data, and reporting could benefit the company. He soon found that by integrating its Smartsheet solution with specialized online services it was already using, DECO could take its business workflow — from recruiting to sales to offboarding at the end of the season — and make it almost entirely paperless.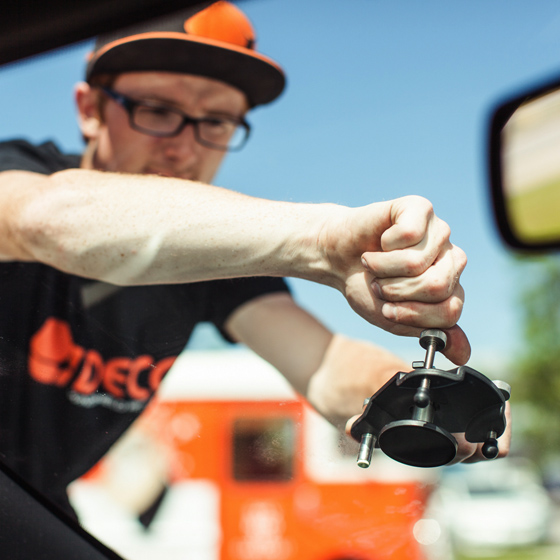 Today DECO Windshield Repair's application, onboarding, payroll and offboarding processes are managed through automated data collection and filtering, connected through Smartsheet. Using an online application form integrated with Wufoo, job applicants quickly submit their experience, personal information, and professional goals. The information is captured by Smartsheet and integrated with Zapier to filter qualified applicants based on the specific attributes local managers are looking for to round out their team. Once hired, new employees submit key employment information such as address or banking information via an online form that automatically populates Smartsheet data sheets for the teams who manage HR and payroll.
"Before we used Smartsheet for managing our employees, it was really on one person's shoulders in the office to manage all that," Chau says. "Using Smartsheet and simplifying the process, we've been able to empower our field managers to organize this themselves. Now it takes 15 minutes of administrative work per employee, whereas before that would have taken at least an hour."
Saving time on administrative processes means more time is available to train employees on their new duties. When the new employee's record is complete, the Smartsheet solution automatically starts emailing employees sales training information in stages to prepare them for their new roles.
"When someone starts, they have their own Slack account created," Chau says. "Once they've been fully onboarded, that's marked in our sheet, and they are sent a series of 'Welcome to DECO' messages that provide them with a sales 101 manual. That gets sent to them slowly, across three days, because there's a lot to learn."
The Smartsheet solution continues to save time after employees have settled into their new roles. Tracking sales data is an important part of both performance evaluation and pay for DECO field staff. Managers use Smartsheet to capture payroll information for each pay period, which is appropriately sorted and exported to DECO Windshield Repair's payroll system.
"Our actual sales process in the field has gotten more complicated, so we've needed to use Smartsheet to collect relevant user and sales information in a way that's clean and easily understood, and then also nicely transmits to our payroll system," Chau says. "Smartsheet acts as a go-between for our main point-of-sale systems."
DECO can process outgoing employees more quickly as well. When a manager marks an employee as inactive in the data sheet, a simple offboarding form is automatically generated to capture the correct status updates. This saves a great deal of administrative time when the majority of locations close down as winter approaches and the corporate team shifts into planning mode for the distant spring.
Chau says the shift to a digital process has improved business processes not only for the local managers but for the entire administrative team.
"All of our invoices and all the employee management were done through paper onsite," Chau says. "Now because of powerful tools like Smartsheet, we've almost entirely eliminated the need for paper, which is fantastic — not only for environmental reasons, but it's just so much quicker and cleaner. It's hard to imagine how we used to operate before these tools."
Learn more about integrating Smartsheet with other solutions or contact us for more information.