With four campuses in the Chicago area, over 16,000 undergraduates and 150,000 alumni, Loyola University Chicago has a wide network of patrons. Fundraising is a critical part of the University's operations, and every gift the University receives comes through one team: the Gift Processing Department. With requests for donor and contact information constantly hitting this team, it's a fast-paced, detail-oriented job – and they're using Smartsheet to change the game.
Drowning in Data
At Loyola University, the Gift Processing Department is the gatekeeper for massive amounts of information. They are responsible for inputting all donor information, from phone number to mailing address, into the University's donor database and processing each gift – and pulling this information back out of the database for other departments to repurpose.
Stacey Hughes, director of advancement information services, leads the team of Gift Processors. "For as long as I can remember, we had request forms on our employee intranet," she explained of the process her team navigated. "Anyone at the University could download an Excel file, complete their request for information, and email their request to us. We tried to set expectations of a two week turnaround with requests for data lists, but it wasn't working. As a result, we were spending a lot of time fielding request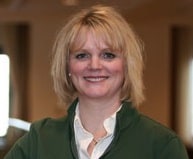 s and dealing with last minute fire drills. It was clear we needed a better, more organized process."
Hughes began to search for a project tracking solution that would help systemize this chaos and add some accountability into the request process. When she found Smartsheet, Hughes knew she was on the right track. "With the familiar spreadsheet interface, Smartsheet isn't intimidating," she said. "It was a natural transition from what we had been doing with Excel."
Freedom with Web Forms - Transforming the Request Process
"I began by importing our old Excel request forms into Smartsheet. From that point, it was easy to make a web form that I could make accessible on our intranet," said Hughes. "Once the web forms were up, I shared the underlying sheets with my team to better organize our data requests."
With Smartsheet, Hughes and her team customize each form for the different scenarios and make certain columns required. Now requests won't make it into the master sheet unless they're completely filled out.
Once a Loyola employee has completely filled out a data request via web form and submitted to the Gift Processing Department, information is fed directly into Smartsheet, rather than sending to an inbox. Once the request is in the sheet, it can be assigned to one of the gift processors and the team can collaborate on completing requests. Transparency and accountability are now the name of the game, and hours of time are saved each week.
"Smartsheet helps us provide context to the requests that we're tackling. We also attach files to rows and leave notes in the Discussion fields on really complicated requests. Reports make it easy for us to surface urgent requests," said Hughes.
In addition, the team sends specific rows of the sheet to get updates from members of other departments. Email notifications automatically alert Hughes and her team when an urgent request comes in. Everything is coordinated, everyone is in the loop.
A Shift in Culture
"Smartsheet has had a huge impact on my team, helping us streamline our work and track requests," said Hughes. "While you can't always see our work, my team is always booked solid. Now I'm able to use the Calendar view of our schedules to communicate with other departments. Their response? 'We had no idea you were this busy.' Now, our two week guideline for requests is understood – and respected. It's exciting to see the positive effect that increase in respect has on my team."
"Now that all of our current work and past data requests are visible in Smartsheet, whenever someone has a question about when we'll get back to them, they check Smartsheet first," explained Hughes. "As a result, we field fewer questions and have more time to actually work on getting requests completed."
Beyond the Gift Processing Office
Given this success, Hughes and leaders from other departments at Loyola are exploring new ways to use Smartsheet throughout the university.
New Employee Orientation: All new Loyola employees are oriented, trained and have goals identified for their professional development. This process, and all associated paperwork, is now streamlined in Smartsheet. With one centralized location online, redundancies are eliminated when an employee transfers from one department to the next.
Task Tracking: The Gift Processing Team now has an individual sheet to track the tasks they're working on. "Smartsheet has streamlined our weekly update meetings," explained Hughes, "and it's a great way for me to communicate our activities with my supervisor."
Event Planning: The event planning committee now uses Smartsheet to plan and track everything for their holiday events and dinners. 'Who's bringing what?' is now clear.
Managing System Upgrades: "Loyola is moving a lot of its processes online," explained Hughes. "In the past, we've tried using SharePoint to work with software vendors – half the time it wouldn't work and would lock users out. Now with documentation tracked in Smartsheet instead, everyone can access it any time: our IT team, vendors, teams from our other campuses – it's always at their fingertips."
"I'm addicted to Smartsheet – I take it with me wherever I go," said Hughes. "Whether I'm commuting home on the train, pulling up a sheet on my iPad during a meeting, or basing a conference presentation about what we've been able to accomplish, Smartsheet is the way I work. It's changed my life."