Customer Story
Modernize Your Sales Process
Weyerhaeuser Distribution needed an agile approach to bringing new products to customers that could help maintain margins and strengthen customer relationships.

Agile Processes Enable Sellers to Branch Out
Weyerhaeuser is one of the largest private owners of timberlands in the world. They grow and harvest trees and manufacture wood products and building materials with an annual revenue of $7.2 billion. Weyerhaeuser Distribution, a division of the company, uses Smartsheet to manage their sales practice and to meet their customers' needs.
"Weyerhaeuser Distribution's values are: agile, adaptable, always there. If we say we're agile and then we're able to use technology that allows us to do that, that's a win for us. Smartsheet allows us to be these things and to express our values as a business through action."
Darren Sorensen
Director,
Sales Support Services
Business Goals
Agile
The solution had to work as a CRM tool for sellers and as a project management tool for teams to plan and track their sales goals.
Adaptable
The solution needed to adapt to individual user needs while aligning to corporate goals and the environment as a whole.
Always There
The solution had to be mobile to enable sellers to always be there for their customers.
Agile Tracking and Planning of Sales Activities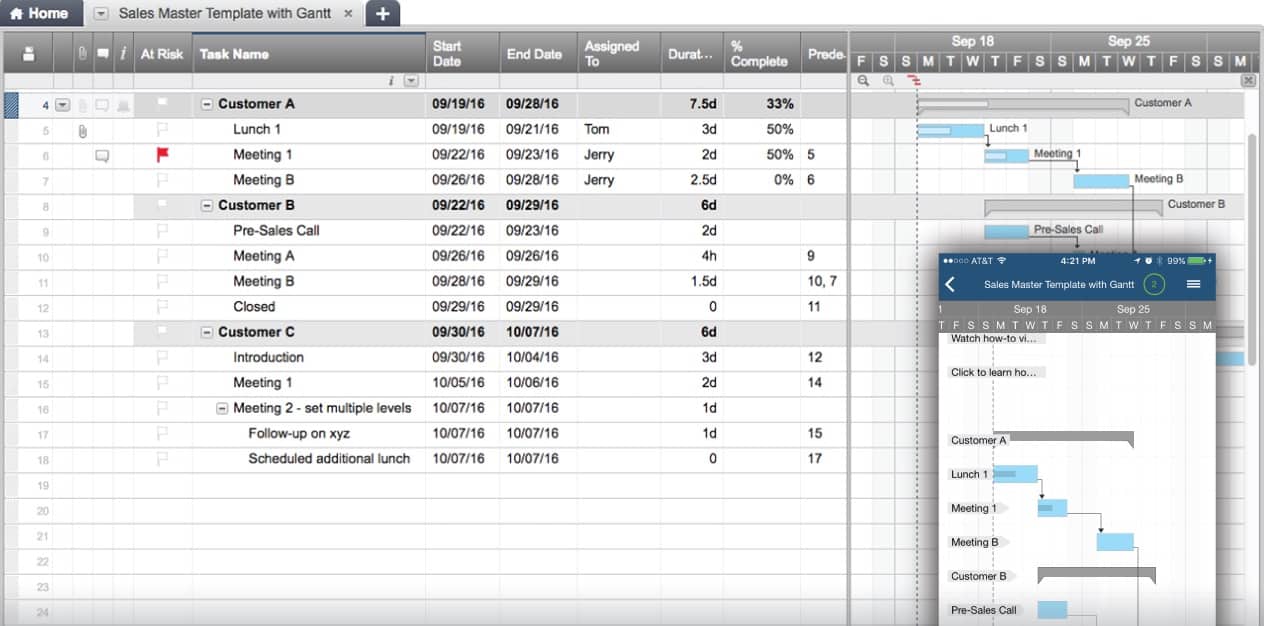 Need
A Better Way to Sell
"We'd been selling one way forever and needed a new way to sell."
Solution
Tracking of all Sales-Related Activities
"Success of a seller was previously determined by whether or not they hit their numbers. There was no way to track or associate a seller's actions apart from their numbers. No way to tie their other activities back to the targets that were designed for their markets. With Smartsheet a seller can now show that their actions are delivering results. If I can show how I'm being successful it's going to lead to even better results."
Adaptable Pipeline to Fit Seller Needs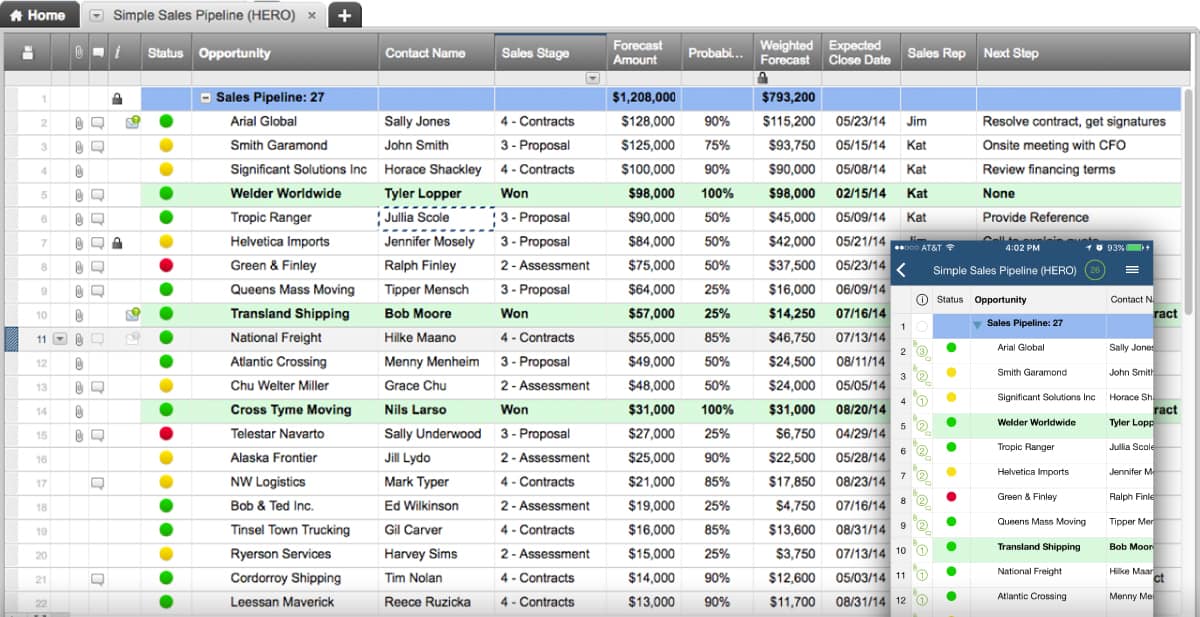 Need
Prioritization
"There's complexity to our lives and our jobs. We needed a tool that helps us simplify our tasks, giving us more time to do other things that our customers care about. This makes us more effective and that's crucial to our success. "
Solution
Sales Pipelining
"The tool organizes the information and the methodology, and then translates it into a sales funnel that allows [sellers] to prioritize their time. Their energy, that valuable 8 to 10 hours of selling time a week that they earn, can be spent on key customers to help them target products that are going to help them grow."
Always There and Mobile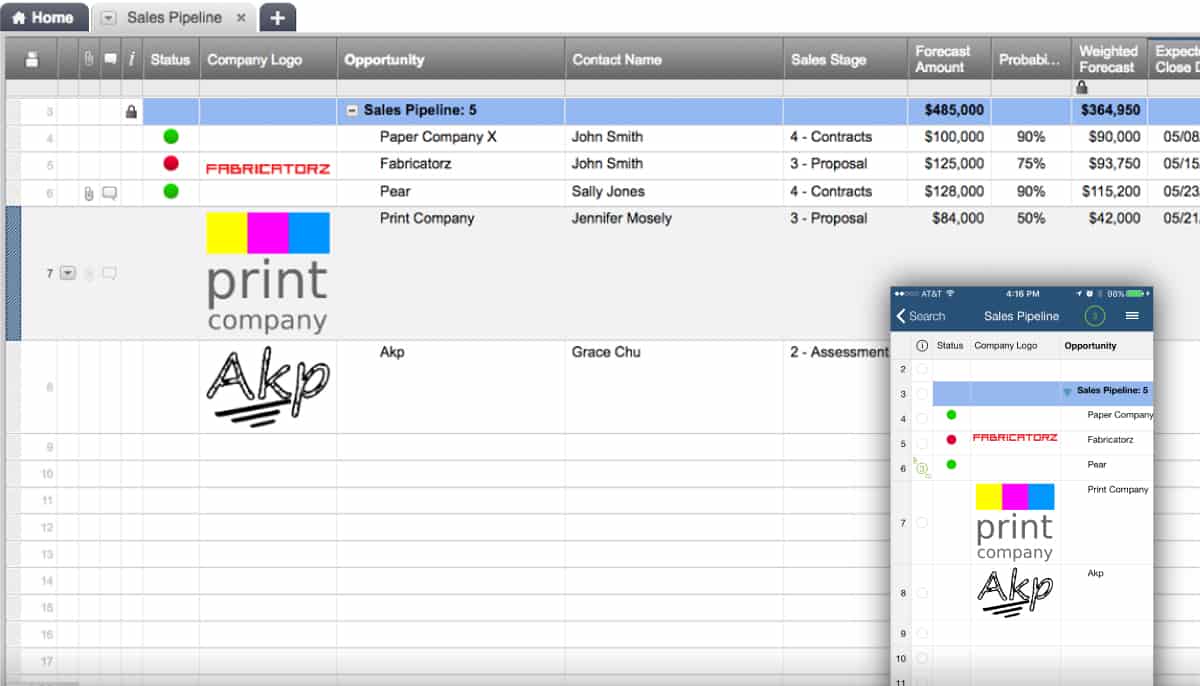 Need
Mobility
"I realized that if I created templates in Smartsheet for the sales team they could be in the field working with a customer and capture information on their phone, and it's synced in real time."
Solution
Access to Smartsheet, From Anywhere
All of the sellers carry a mobile device and most of them are on iOS. By using the Smartsheet app on the road, sellers can remain active and out in front of their customers.
"A lot of our conversations are transactional and do not lend themselves to listening and learning about how to help a customer by asking good questions aligned with a product strategy, sales strategy, or customer strategy. By having the tools inform where sellers should prioritize their time, and determine the kind of questions they should ask, this frees up some of our sellers' time to be better prepared for the meeting, be more consistent, have more confidence, and ultimately to be more successful."
Darren Sorensen
Director
Sales Support Services
Smartsheet for Sales
Top performing sales organizations are "always on" and "always on-the-go". They rely on Smartsheet for insights into their next opportunity and nuances to close each sale.
View Solution