Forms
Collect and Act on Your Data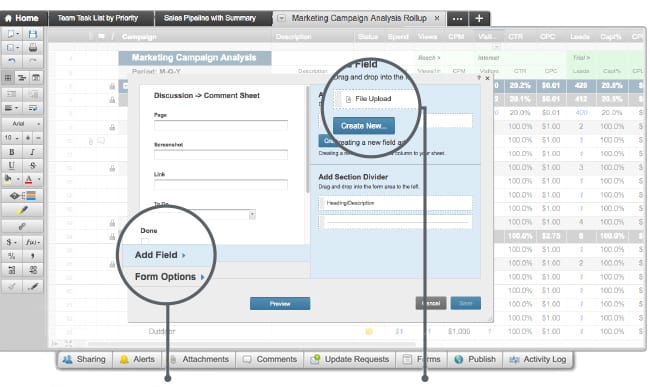 Easy to Create

Simple, online form builder with drag-and-drop editing

Enable File Attachments

Respondents can attach files to form submissions
Smartsheet customers are using forms every day to capture, organize, and act on their data. Data captured through forms is saved into Smartsheet in a structured format so you can easily review, organize, and track information, and take action on the data gathered.
Endless Possibilities
Thousands of Smartsheet customers are using web forms every day to turn data into action. Here are just a few examples:
Easy to create and customize

Anyone can create forms to serve their business needs using a simple editing interface

Quickly turn data into action

Collect error-free, consistent, and organized data for analysis to drive business decisions.

Access from anywhere

Fill out forms on your desktop, laptop, tablet and phone.
Here are a few examples of what Smartsheet forms can do for you:
Field tickets

Give field workers a way to easily submit data from anywhere. Photos can be captured using a mobile device and uploaded instantly.

Feedback Form

Get feedback on a product, service, or process, track responses, and close the feedback loop.

Event Registration

Capture registration information and track and manage customer data for events. Easily share registration details with the team.