Motion Federal Credit Union
When everyone has visibility into project status, progress is made quickly.

Motion Federal Credit Union is a well-established name in the New Jersey area. As the eighteenth oldest credit union in the country, MFCU has a solid reputation as a respected financial institution. While some of the credit union's larger partners include ExxonMobil, ConocoPhillips and DuPont, MFCU has not lost sight of its traditional credit union feel or personal touch with members. Dedicated to "moving dreams forward," MFCU has the array of products, services, and community involvement that traditionally differentiate most credit unions from other, larger banking institutions.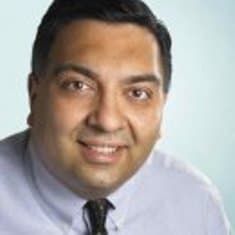 Meet Arp Trivedi, MFCU's somewhat non-traditional Manager of Administration. In his role at MFCU, Trivedi wears many hats and is responsible for overseeing everything from the credit union's Human Resources department to new branch development and construction. A financial services veteran of over 20 years, he is continually looking for new and better ways to drive efficiencies across the organization.
Goodbye Siloed Work: Hello Collaboration
Heading into summer 2011 with a staggering number of projects on the horizon, Trivedi knew it was time to find a project management solution that would fit MFCU's needs to keep track of their wide array of programs and projects. It was also important to find a solution that would serve as a collaboration engine for the rest of the MFCU team, as well as a tool that would help the credit union operate cost effectively.

Different Microsoft programs had posed a number of challenges in the past for Trivedi. "Credit unions today have evolved to a culture of stand alone, siloed project management, which is enabled by programs like Microsoft Excel and Project. These programs are not designed to be collaborative and that's affected the way that we as credit unions approach working together," explained Trivedi.

He did not want to perpetuate this isolated cycle at MFCU – and knew that hinged upon his choice of project management software. Trivedi discovered Smartsheet in the G Suite Marketplace and knew that in conjunction with a few other Google Apps, it would be the perfect solution to further progressive collaboration at MFCU.

One Tool, Many Uses
Upon introducing Smartsheet, Trivedi and MFCU have seen an exciting shift in the adoption of the tool across the company. "We've gradually begun to collaborate and manage more and more in Smartsheet. We now use it to manage all of our corporate projects because it's easy for anyone to use, attach files, view progress or update project status," Trivedi said.

MFCU uses Smartsheet as a dashboard for tracking a wide range of projects and tasks including:
New branch openings:

From the initial contract to the grand opening, every step of the planning, design, and construction of each new branch is archived in Smartsheet. Contract documents and order invoices are all kept together in one convenient, easy to access location. <sample construction template>

HR processes:

Smartsheet has proven to be a useful tool for Trivedi in managing MFCU's Human Resources activities including recruiting, employee forms and policies. <sample HR templates>

New product development and launches:

Every step of MFCU's new product development and launches are carefully tracked in Smartsheet and easily accessible to collaborators for smooth and cohesive project management. <sample launch templates>

Collaboration + Transparency = Productivity
When everyone has visibility in projects, progress gets made quickly. "We often pull up Smartsheet during our team meetings–everyone's progress is laid out for the rest of the team to see. It's incredible how that level of transparency has boosted our productivity," remarked Trivedi on Smartsheet's impact on the MFCU team. "It's very motivating."

Always striving for greater performance and shaving off unnecessary frills at every turn, MFCU has adopted many other Google Apps throughout the last two years in addition to Smartsheet.

"My role is to help evolve MFCU into a more collaborative organization, in which all of our departments effectively communicate and work together. Smartsheet and Google are driving us there."