Collaboration
Smartsheet collaboration drives results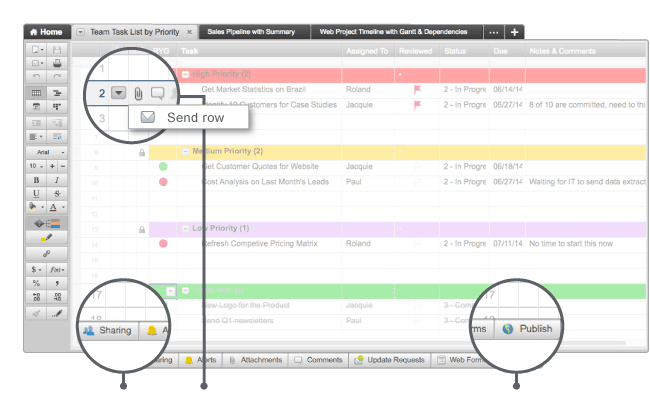 Share Sheets

Share entire sheets and set access permissions

Send Row

Attach files to entire rows of data and get updates via email

Publish to Web

Publish to Web as read-only or editable files
Share your work with other team members, or simply collaborate on a specific task, Smartsheet makes it easy. Invite people anywhere to collaborate on your entire project by sharing the sheet with them, or simply send them a row with all attachments to get updates.
Imagine having all notes, comments, files, and information in one centralized location accessible across any browser, device, and operating system. The result is real-time collaboration that streamlines communication, empowers teams, and drives efficiencies.
Collaborate with Anyone, Any Time
What is collaboration? There are dozens of definitions, ranging from "individuals working together to a common purpose to achieve business benefit" to "the action of working with someone to produce or create something."
While exact definitions may differ, they all have one thing in common: collaboration happens with others. It is not a solitary action. It requires communicating with internal and external stakeholders, sharing information, making group decisions, and more.
And, with the world of online collaboration, it must be in real time. Teams need the ability to access files, provide feedback, leave comments, and chat with each other at any time of the day, wherever they are.
Smartsheet Collaboration: Success Stories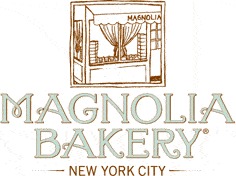 Faced with widespread, international growth, Magnolia Bakery was looking for a way to open new stores in completely different countries while still maintaining brand consistency. The team uses Smartsheet to work with every franchisee and keep everyone on the same page. They can create one location for all specifications and ingredients and improve transparency by visually communicating who is doing what.
Read the whole story here
Cypress Grove, makers of fine goat's milk cheese, uses Smartsheet to collaborate more efficiently on a broad range of projects and processes across the company. Creamery workers can make requests about safety or quality concerns that automatically show up for managers and employees can use their smartphones to enter data directly into Smartsheet from the manufacturing floor.
Learn more about Cypress Grove and Smartsheet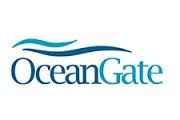 OceanGate is a deep-sea exploration organization that builds, owns, and operates manned and unmanned submersibles. They use Smartsheet to communicate with widespread contributors, working remotely or at a different location. Smartsheet helps them make updates to a project, regardless of their physical location.
Learn more about how OceanGate uses Smartsheet
Click here to read all the case studies.
Additional Resources