Getting From Idea to Impact
At a time when organizational speed and execution are critical to gaining a competitive edge, modern work — especially at scale — is increasingly bogged down by legacy tools and legacy thinking.
Smartsheet is designed to unleash the benefits of greater work agility and collaboration by providing a powerful platform for organizations to plan, capture, manage, automate, and report on work. Smartsheet empowers teams to execute with speed and accountability — and make better decisions, faster.
Organizations need a way to get work done, not just talk about it. Smartsheet is the best way to plan, capture, manage, automate, and report on work, enabling you to move from idea to impact — fast.


Watch Smartsheet in Action
Smartsheet Solutions
We provide thousands of targeted solutions for high-value, mission-critical work processes, including:
Smartsheet has been integral in not only growing our company and growing our business, but showing integrity to our clients, enabling them to see everything that is going on with our team, in real time, so they're always up-to-date."


Watch the Colliers Story

It's an easy sell when you talk about ROI and what Smartsheet can provide from a numbers perspective, if we can decrease the amount of time it takes us to do a construction project by just a week."


Watch the MOD Pizza Story
Powerful Productivity
Businesses of all sizes see big time savings after implementing Smartsheet. Not only do business leaders realize improved productivity, but their entire organization — including both internal and external stakeholders — saves time due to improved collaboration.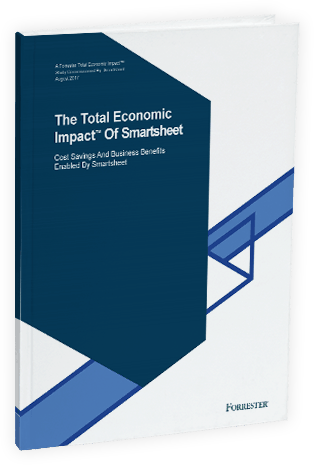 The Total Economic Impact™ Of Smartsheet, a September 2017 commissioned study conducted by Forrester Consulting on behalf of Smartsheet.
Read the Full Study