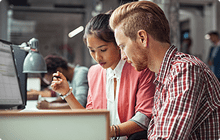 Collaborative project management for projects of any scale
Choose a template and get started today
A comprehensive solution to seamlessly manage your team, time and tasks
Project managers rely on Smartsheet to coordinate a wide variety of projects and operational processes – from complex to simple. Finally, one flexible solution provides real-time visibility across people, projects and deliverables.
A tool that works like you
Ultimate Visibility - Your online hub for managing all aspects of your projects, from team availability and deliverable timelines to relevant documents.

Intuitive for Teams - A familiar spreadsheet layout makes it easy for anyone to get started, no more fighting bulky systems and hunting for status updates.

Powerful Flexibility - Your complete project toolset – interactive Gantt charts, resource management, automated workflows, file sharing, and more.


Learn how Extreme Networks streamlined processes, reduced time to market by 50% and changed their definition of collaboration with Smartsheet. Read more from Brad Martin, Chief Quality Officer at Extreme Networks.