Customer Story
Coordinate the Major Sporting Events
Populous needed a way to coordinate hundreds of people and, thousands of details, to masterfully produce the world's largest sporting events.

272 Vendors, 2,099 Tasks, 160 Deliveries Coordinated
The logistics involved in large scale events like the Final Four are ever changing. Completing over 2,000 tasks on game day and coordinating over 160 deliveries required the Populous team to find a tool to simplify their work and reduce the hours spent chasing critical details.

"We relied on over 200 vendors. Making sure others did their job was the only way we could succeed."
Hailee Damp
Event Coordinator
Business Goals
On-the-Go Access
Successful event coordination involves multiple touch points and dynamic workflows. Populous needed a collaborative solution for a team on the move and anytime anywhere access for phones and tablets.
Streamlined Operations
Logistics management was a combination of email, Excel worksheets, phone calls and Word documents. A single platform would simplify operations, save time, and reduce deadline risks.
Prioritize Maintenance Issues
With 272 vendors and contractors, it was necessary to find a tool that would be easy for all vendors to understand and to use without training.
Event Coordination on Mobile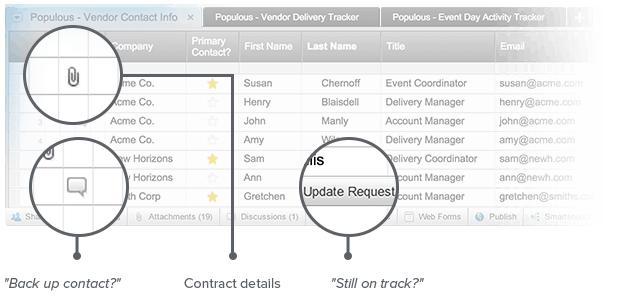 Vendor information in one location
Spreadsheet-like simplicity
Access and send documents on all devices

Organized Stadium Operations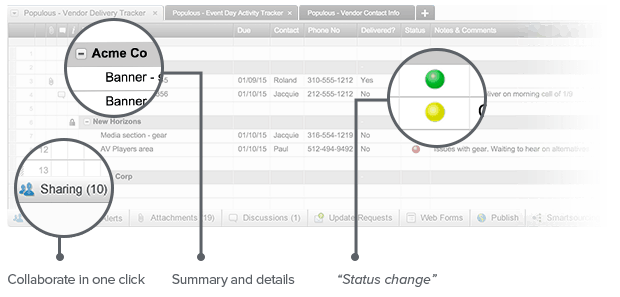 Receive automatic alerts
Report and share daily milestones
View details summarized in dashboard

Ease of Use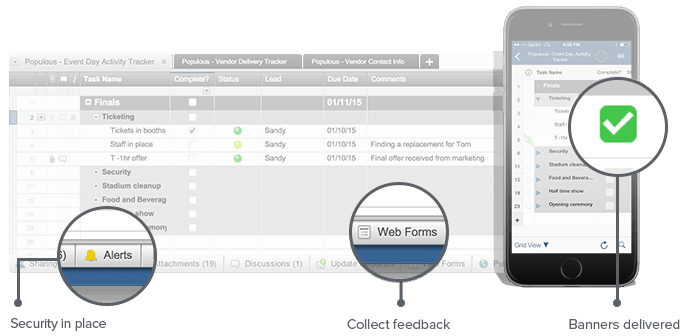 Collaborate with spreadsheet-like simplicity
Connect attachments to details for added context
Store vendor information in one location

"Smartsheet has definitely improved our productivity, impressed our clients and vendors, and made project management for major sporting events much easier."
Hailee Damp
Event Coordinator
Smartsheet for Project Management
Whether orchestrating simple tasks or complex portfolio management, PMO leaders rely on Smartsheet to align the right people, resources, and schedules to get work done.
View Solution