Southern Illinois University - Edwardsville
Educating the Next Generation of Business Professionals in Smartsheet
Southern Illinois University Edwardsville is well known in the Chicago - St. Louis region for its innovative approach to education. The SIUE faculty is committed to continually developing new programs that better prepare its students to enter the work world as professionals with a solid grasp of the functional areas of modern business, as well as the soft skills needed to navigate today's constantly changing business landscape.
Preparing for Success
Nearly a decade ago, the faculty in the School of Business established a task force to critically evaluate the way that important business skills of every kind were being taught to students.
"In the School of Business, we teach many key concepts: the ability to work well in a group, solid communications skills and a strong knowledge of leadership, to name a few. Just as important are the hard skills required in the workforce. We wanted to craft a new, required curriculum that would combine these two different skill sets for a comprehensive experience that would resonate with students," explained Mary Sue Love, an administrator and associate professor at SIUE.
"Simultaneously, we've seen a huge change in the technologies that are used in the business world. Once the idea formulated to use a project management tool to teach both hard and soft skills to our students, we knew we were onto something big."
The Right Tool
The next critical step was to find the right tool to teach this groundbreaking course. Love and her colleagues had internal access to MS Project and initially thought it would be a great fit. But the software's inflexible nature and complicated licensing requirements ruled it out as a contender.
"Once my colleague Susan Dustin found Smartsheet and introduced it to the rest of us, we knew it was what we were looking for," said Love. "The tool is so easy to use, we knew our students would be able to jump in without any problems. On top of that, Smartsheet is flexible enough to accommodate all of the skills we wanted to teach students with this course - from hard project management skills to the fundamentals of how to successfully work with others."
After years of course planning and searching for the right tool, Love and other members of the task force worked together to develop a new curriculum for Managing Group Projects, MGMT 331. The course combines theory with both hard and soft skills to deliver a truly well-rounded experience for students.
A Course in Smartsheet
MGMT 331 begins with three weeks of instruction on project management theory. With a foundation in project management solidly in place, students begin to complete group projects in Smartsheet. Three projects are assigned throughout the course of the semester, each with the same structure.
First, students read a 15-page Harvard business case. Together, groups must identify the problem, diagnose a fundamental solution, and craft an action plan to solve the issues they've identified. This process of identification, planning and solution is all detailed in Smartsheet, which is shared among the group and also with the course instructor.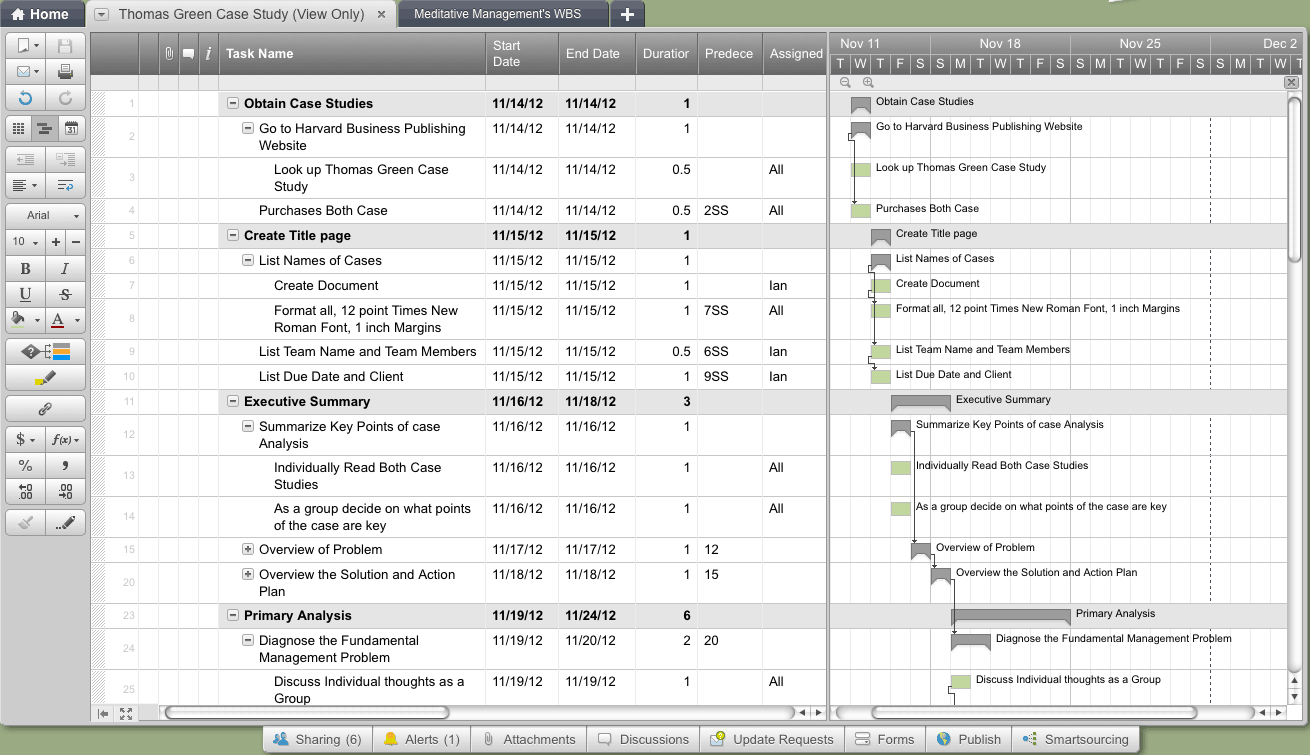 Using the project management skills they learned at the beginning of the course, students gain real-world experience setting project scope, breaking down structure, and manipulating Gantt charts.
Beyond the Classroom
MGMT 331 is a required course for all 1,200 business students at SIUE. Many students from other university programs are enrolling to fulfill requirements in pursuit of a minor in business. "We're seeing Smartsheet take hold with our students and also pull in students from other departments," said current course instructor, Katie Robberson. Once students have completed the course, they have free access to Smartsheet through graduation from SIUE.

"Smartsheet is not only teaching my students the basics of project management," said Robberson. "It's helping to teach them how to work through the challenges of group collaboration in a professional manner. They're learning a better way to project plan with accountability, visibility, and clear expectations for everyone. I wouldn't be able to convey these core concepts of our curriculum without Smartsheet."
Roberson, Love, and the rest of the SIUE School of Business faculty are using Smartsheet to give their students a competitive advantage when they enter the professional workforce. Not only will graduates have real project management experience under their belts, they'll have first-hand knowledge of how cloud tools can be used to facilitate discussion, collaboration, transparency and accountability. In today's ever-changing business landscape, this unique skill set will help SIUE graduates stand out in their job search.