Event Plan & Budget Template For Seamless Event Execution

Plan and manage every detail in one handy sheet for seamless execution of your next event, conference, or tradeshow. Consolidate due dates, task status, budget, and spend in the same plan. Easy to share and update with your event team and vendors.
Event budget template design and key features
Customizable Columns for Event Items
Task Name
Enter event tasks in the Primary Column (used for Smartsheet automated emails)
Assigned
Pick task owners from your Smartsheet contacts
Status
Show task progress visually using Harvey Ball symbols
Due Date
Set the task due dates using the date picker
Budget
Set the budget for each event detail
Actual
Enter $Each and Qty as items are purchased —a formula automatically calculates the Actual spent
Notes
Log status details or other brief notes about each task
Collaborative Features for Event Planning
File Attachments
Store contracts, floor plans, & invoices
Alerts & Reminders
Set alerts for due dates & sheet changes
Comments
Log task details, comments, & notes
Gantt Chart
Enable Gantt view to see a timeline
Calendar View
View & edit tasks in a calendar
Row Hierarchy
Organize tasks into collapsible sections
Sharing
Collaborate in real-time with your team
Update Requests
Request updates on task status
Web Forms
Collect new rows & take action
Mobile App
View & update your plan on the go
Sharing budgets with different access levels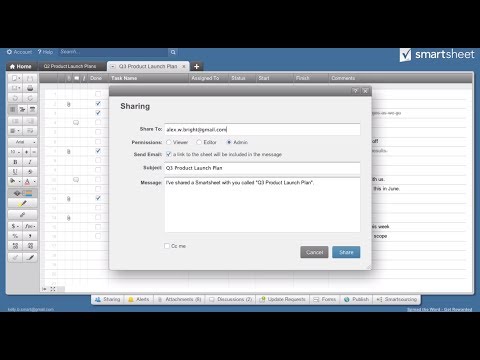 1:27
Sharing Your Sheet
Share your event plan with your team
Select the Sharing tab to share with your collaborators. Add collaborator email addresses and select a permission level.
Viewer: can view and export the sheet, but can't make changes
Editor: can edit information in cells, add attachments, set alerts, & create discussions
Admin: can add collaborators, edit columns, & change dependency settings
Share multiple sheets in a Workspace
Create a Workspace to share multiple sheets with the same group of people, with consistent sharing permissions on all items in the workspace.
Prevent edits with locked rows & columns
Lock any column or non-blank row to prevent others from changing or deleting key information. Only sheet Owners or Admins can lock, unlock, & edit locked columns & rows.
Collaborating on the plan with your special events team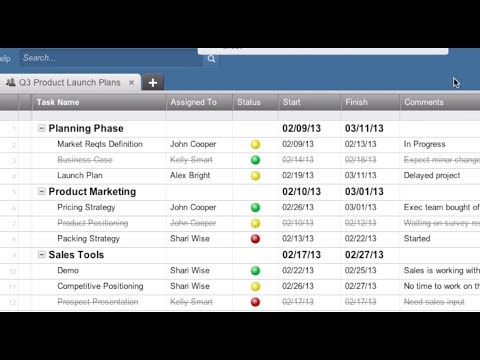 2:02
Collaborating on Sheets
Collaborate in real-time
Work simultaneously with everyone shared to the sheet. To help you see changes, Smartsheet will notify you when multiple collaborators are working on the sheet.
Highlight everyone's changes
Select the Highlight Changes button to see all recent changes since the last time you viewed the sheet - or within the day, week, month, or a specific date range.
Get a revision history on any cell
Right click on a cell and select View History to see previous values, who made each change, and when.
Format content automatically
Call attention to key information by setting Conditional Formatting rules to automatically format cells based on the values they contain, such as Status.
Getting budget and planning updates from your team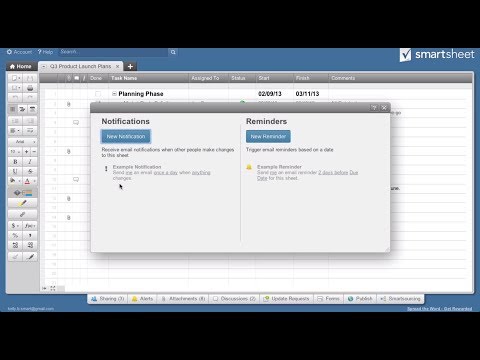 2:41
Alerts & Reminders
Set Reminders
To set an email reminder on any task in your sheet, select Set Reminder from the row menu. Choose the Alerts tab to trigger Reminders for the whole sheet, or to notify yourself & others of changes to the sheet.
Get automatic updates from your team
Send an update request, a special email designed to allow anyone to update rows on your sheet. Select one or more rows, then use the row menu to send a one-time or recurring request for regular updates.
Learning how to use your event budget and plan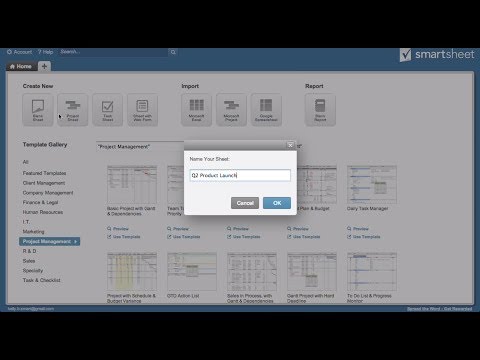 6:00
How to Set Up a Sheet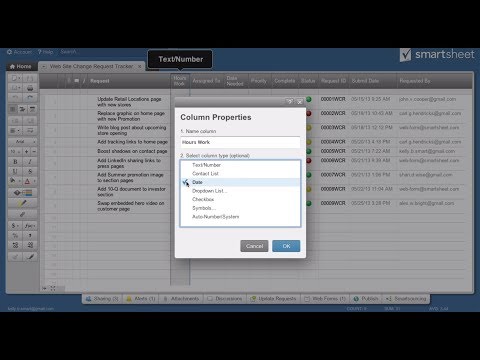 2:38
Columns in Smartsheet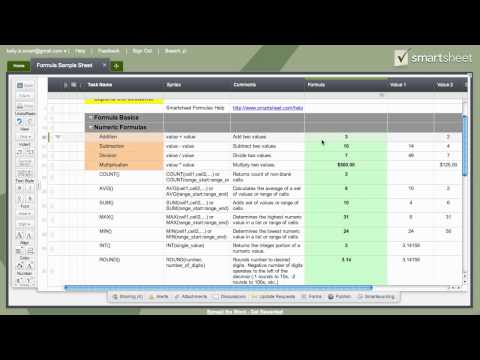 6:19
Formulas in Smartsheet