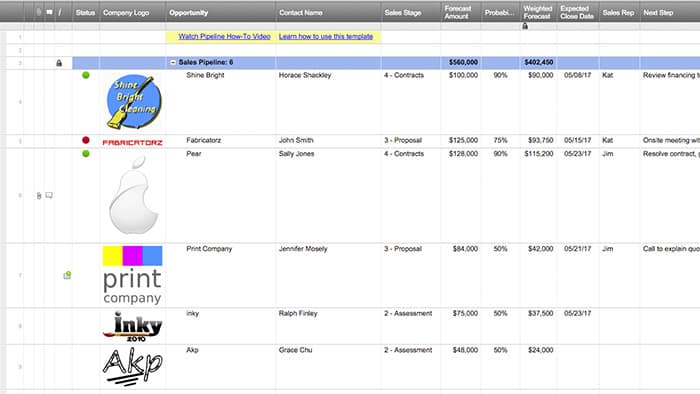 Need a simple, straightforward way to track your team's sales pipeline? Use this template to capture deal value, sales stage, next steps and more. No more email runaround, no more copying and pasting in spreadsheets.
Template design and key features
Customizable Columns
Status
Show opportunity status visually using RYG balls
Opportunity
Enter the deal or prospect name in the Primary Column (used for Smartsheet automated emails)
Contact Name
Add the contact name for each opportunity
Sales Stage
Track sales stage in this dropdown — edit dropdown values in Column Properties
Forecast Amount & Weighted Forecast
Enter the forecasted sale amount — a formula calculates Weighted Forecast from Probability
Probability
Record the probability of closing the opportunity at the Forecast Amount
Expected Close Date
Set expected close date using the date picker
Sales Rep
Assign a sales rep from your Smartsheet contacts
Next Steps
Detail the next steps to take to close the deal
Collaborative Features
File Attachments
Store quotes, proposals, & contracts
Alerts & Reminders
Set alerts for follow-up & sheet changes
Comments
Log customer calls, emails, & notes
Gantt Chart
Enable Gantt view to see a timeline
Calendar View
View & edit the pipeline in a calendar
Row Hierarchy
Organize rows into collapsible sections
Sharing
Collaborate in real-time with your reps
Update Requests
Request status updates from reps
Web Forms
Collect new leads from your website
Mobile App
View & update your pipeline on the go
Organizing your team's pipelines
2:40
Simple Sales Pipeline
Choose to use one sheet or roll up multiple clones of the same sheet. Two key questions are:
Is it ok for reps to see each other's deals and the whole pipeline?
How many deals are in your pipeline?
If your pipeline is small, and it's ok for the team to see each other's performance, then one sheet is fine. Otherwise, save copies of your sheet for separate reps, product lines, or territories. See below for more information on managing multiple pipelines.
Sharing with different access levels
2:29
Sharing Your Sheet
Share your sheet with your reps
Select the Sharing tab to share with your collaborators. Add collaborator email addresses and select a permission level.
Viewer: can view and export the sheet, but can't make changes
Editor: can edit information in cells, add attachments, set alerts, & create discussions
Admin: can add collaborators, edit columns, & change dependency settings
Share multiple sheets in a Workspace
Create a Workspace to share multiple sheets with the same group of people, with consistent sharing permissions on all items in the workspace.
Prevent edits with locked rows & columns
Lock any column or non-blank row to prevent others from changing or deleting key information. Only sheet Owners or Admins can lock, unlock, & edit locked columns & rows.
Collaborating on the pipeline with your team
2:02
Collaborating on Sheets
Collaborate in real-time
Work simultaneously with everyone shared to the sheet. To help you see changes, Smartsheet will notify you when multiple collaborators are working on the sheet.
Highlight everyone's changes
Select the Highlight Changes button to see all recent changes since the last time you viewed the sheet - or within the day, week, month, or a specific date range.
Get a revision history on any cell
Right click on a cell and select View History to see previous values, who made each change, and when.
Format content automatically
Call attention to key information by setting Conditional Formatting rules to automatically format cells based on the values they contain.
Filter down the rows you see
Select Filter Column from the column menu to see a smaller set of opportunities in a long sheet.
Getting opportunity updates from your reps
2:41
Alerts & Reminders
Set Reminders
To set an email reminder on any opportunity in your pipeline sheet, select Set Reminder from the row menu. Choose the Alerts tab to trigger Reminders for the whole sheet, or to notify yourself & others of changes to the sheet.
Get automatic updates from your team
Send an update request, a special email designed to allow anyone to update rows on your sheet. Select one or more rows, then use the row menu to send a one-time or recurring request for regular updates.
Managing multiple pipelines
3:12
Cell Linking in Smartsheet
Link cells across sheets
Use Cell Linking to consolidate information from multiple sheets. You can roll up data from several sheets to build a multi-pipeline dashboard or reference cells in other sheets.
Dynamic reviews of multiple sheets
Create a custom Report to see opportunities in multiple sheets that meet specific criteria. For example, a Report can show a team member's open opportunities in the coming week. Updates you make in a Report also update the source sheets.
Collecting new leads with a Web Form
3:49
Using Web Forms
Create a Web Form
Capture new leads by linking a web form in email campaigns or embedding it in your website. The details your prospects enter into the form will go directly into your pipeline sheet as new rows.
Connecting with your apps
2:29
Smartsheet and Google Apps
Docusign
Send Smartsheet attachments like contracts and invoices to DocuSign for e-signature, and the signed documents will be automatically uploaded back to the Smartsheet row. Built by Smartsheet Labs.
Salesforce
Link your Smartsheet sales pipeline to any Salesforce object to keep your sales team organized and on track. Then share your sheet with external teams so they can access and collaborate on Salesforce data. Built by Smartsheet Labs.
Marketo
Collaborate with your extended team to maintain contact lists. Work together to add context and comments to your lead list in Smartsheet, then send updated leads to Marketo for campaigns and outreach. Built by Smartsheet Labs.
Charts
Use Charts and Graphs to visualize key information about your sales opportunities. Charts automatically update when Smartsheet data changes, so your chart is always current. Built by Smartsheet Labs.
6:00
How to Set Up a Sheet
2:38
Columns in Smartsheet
6:19
Formulas in Smartsheet