Smartsheet Hits the Slopes, Wins Gold
Becoming a competitive ski racer requires years of training and preparation – involving a costly schedule of travel, training, and competition for months each year. For Stevens Pass Alpine Club (SPAC) and Program Director Dave Lyon, managing this group is an exercise in extreme coordination and communication. Lyon leads the development and coordination of SPAC's 150 burgeoning athletes, their parents, coaches, volunteers, individual training regimens, dozens of races, deadlines, and travel and registration logistics. He shares the coordination challenges his team faced – and how Smartsheet has become their winning solution.
BYOD: The Inevitable Future... and Unavoidable Challenge
At the start of the 2011-2012 racing season, SPAC's event communication with athletes and their families was fragmented to say the least. Athletes and families chose their own method for staying updated on event logistics and information – from emails and Excel spreadsheets, to texting or calling in to an information hotline. With no streamlined communication network, Lyon and his coaches were spending more and more time staying on top of the administrative work of club operations rather than coaching and truly working with their team.
These communication challenges were compounded by the less-than-ideal scenario of a widely dispersed network and the unpredictable weather of the ski slopes. SPAC needed a way to exchange information, quickly and in real time, as a team. With growing membership, it was clearly time to find a new solution.
One-Stop, Centralized Communication: The Smartsheet Solution
"We realized we needed to get much better at connecting with our members," said Lyon. When Smartsheet was introduced as an option, Lyon quickly saw the potential to centralize and simplify the SPAC network's communication and race planning.
In February 2012, Lyon, along with a few SPAC parents, built out a pilot communication program for the team's junior athletes. With ideas fleshed out in Smartsheet, the program started to take form.
Lyon began by adding the season's calendar of races and training sessions into Smartsheet including all important information: dates, locations, discipline, contacts, registration links, and more. With a Master schedule completed, it was easy to use as a template to quickly create a personal calendar for each athlete.
Athletes and parents are responsible for keeping certain pieces of information up to date in Smartsheet: details from intent to attend training or race, registration information for races, or needs for lodging and transportation. This information is then shared with Lyon and his lead coaches via reporting so they can plan in advance for the right amount of coaches, the lodging and transportation logistics, and communicate any changes during the season.
Using Smartsheet as a centralized communication and event planning tool proved to be an incredible success for the end of SPAC's junior racing season. Riding the momentum of this success, Lyon and his coaches are now using Smartsheet to manage and organize all of SPAC's athletes.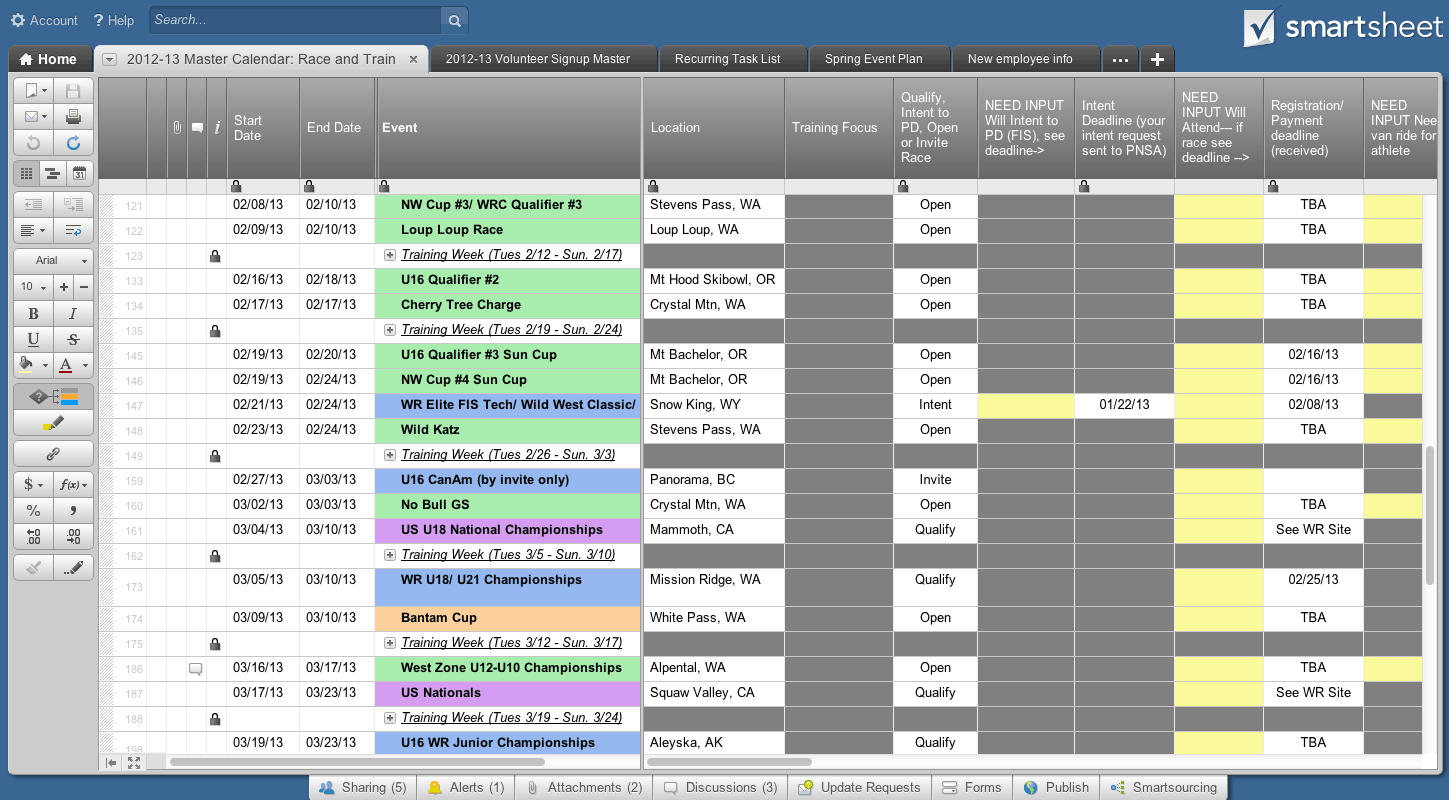 No Guesswork, Just Performance
"Our athletes, their families, and program staff all have different levels of technological capabilities, which is one of the reasons that Smartsheet is an ideal tool for us. It's easy for anyone to use. We are able to set up our calendar for events and athletes in a way that is accessible to everyone and seamlessly coordinates minute-by-minute updates," said Lyon.
Lyon and his coaches use a Master sheet to coordinate over 250 races and training sessions for all athletes. This sheet is linked via cell linking to over 150 individual Smartsheet schedules for each athlete and coach. When Lyon adds or changes anything in his Master sheet, the individual sheets for all 150 SPAC athletes are updated and a notification message is sent via Smartsheet. With one central system for all families, athletes, and coaches, the team can rest assured that the many updates that are a part of the ski racing life quickly make it to all members of the team while also automatically updating the calendar on the website. <watch this video to learn more about cell linking in Smartsheet>
In addition to cell linking, these Smartsheet features are gold for SPAC:
Notifications: Any time a change is made to an event calendar, Smartsheet automatically sends email updates to all members. Instant updates for constantly changing conditions are crucial with this team.
Mobile: Being able to access race logistics or send updates to athletes about ski conditions via mobile devices is critical in keeping the organization informed on the latest details.
Calendar View: The ability to see the complex race calendar laid out months at a time meets the varied needs of all parts of the SPAC community. Athletes, coaches, and families are now able to plan together as a team and keep the big picture in mind.
Calendar Integration: "Smartsheet has helped to eliminate some of the challenges we were facing of reaching our community via their personal technology of choice," explained Lyon. "Because Smartsheet integrates easily with iCal and Google calendars, our athletes are able to sync their racing information with their personal calendars to stay truly up-to-date in their busy lives."
Publishing Capabilities: Any updates to the Master calendar are instant published via Smartsheet to SPAC's calendar and website, making updates truly accessible to anyone connected with the racing community.
Given the scale of the Alpine Club's athletes and races and the need for information immediacy anywhere, anytime and on any device, these capabilities were a game-changer, and have transformed the way that all members of the Club stay updated and share information.
Looking Forward
"Smartsheet is the first solution we've encountered that truly delivers incredible power, ease of use and user choice that breaks through the user adoption barrier that has blocked so many of our other attempts at a truly connected community of interest," explained Lyon.
As they looked to the future of possibilities with Smartsheet, Lyon and his coaches expanded their use to include volunteer signup and management as well as coordination with the mountain and other partners for any training or race event.
"There's a lot of manpower necessary for any of our races," explained Lyon. "Smartsheet is perfect for quickly communicating with the mountain, outside vendors, and the many volunteers we need at each event before they can take place."
Recently, SPAC introduced Smartsheet as a tool for timecard and expense tracking for coaches and even a marketplace to sell used equipment. To SPAC, Smartsheet is truly becoming their one stop operating, collaboration, and communications platform.
Using Smartsheet to take away the burden of the heavy lifting out of the administrative work, Lyon and his coaches can spend their time focusing on what they love: nurturing young talent, building community, and hitting the slopes.