Below you will find the latest brief release notes outlining new features and known bug fixes. If you have questions about a new feature or enhancement, please contact your account representative or visit www.smartsheet.com/gethelp.
Smartsheet Product Update – April 11, 2018
New or updated features in this release include:
1. New Chart Types
We've added 10 new chart types to the charts widget in dashboards: Smooth line, Stepped line, Straight Line Area, Smooth line Area, Stepped line Area, Donut Chart, Half-Pie chart, Half-Donut chart, Stacked Column, and Stacked Bar.
Smartsheet Product Update – April 3, 2018
New or updated features in this release include:
1. New Smartsheet Look and Feel
Smartsheet's new layout makes it easier to find and use its most powerful features.
Toolbar
The left-hand toolbar is replaced with a new horizontal toolbar at the top of the sheet.

Menu Bar
The sheet actions button (to create, save, import/export, and more) is now in a new File menu. The new menu bar is the entry point for creating and editing forms, alerts, and automated actions.

Sidebar
Collaborative information and actions including comments, attachments, update requests, publish, and activity log are accessible in a new sidebar.

Dashboards
Publish settings and Activity Log have moved to the dashboard toolbar in the right corner.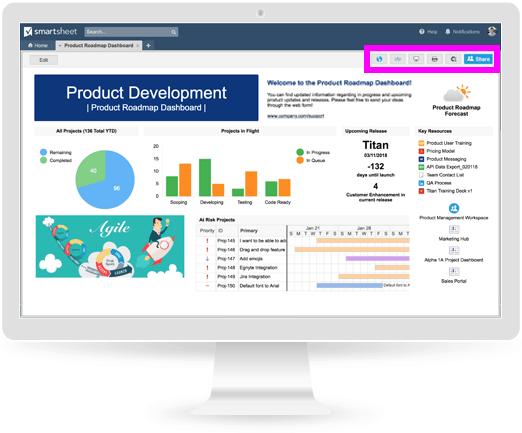 2. Smartsheet Solution Center
Smartsheet's new Solution Center, previously a gallery for templates, is now a showcase of apps, connectors, services, and pre-built sheets, reports, dashboards, and forms. You can access the Solution Center by clicking the + tab in the app or click this link.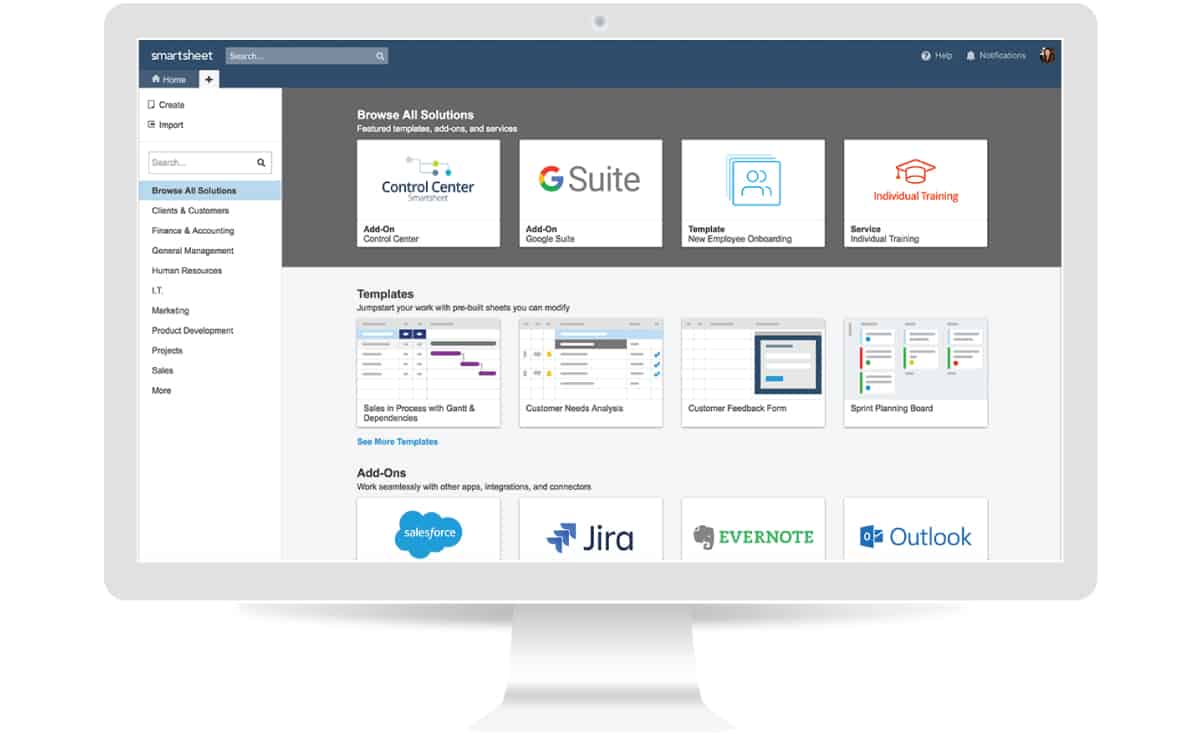 3. Reminders in Notification Center
Reminders now appear in the Notification Center in Smartsheet desktop app and mobile push notifications. Reminders can be configured to send through email and/or push notifications on mobile in the Notification Preferences. Single row reminders will display in a vertical format.
4. Cross-sheet Formulas Enhancement
A new delete option on the source sheet of a cross-sheet formula will let you remove cross-sheet references from your sheet. Deleting the cross-sheet reference will delete all other references from that sheet and return an #INVALID REF error.


5. Auto-Create Notification Rule
When the first contact in an eligible sheet is assigned, an automation rule is created that will notify the assignee/contact of any changes to the associated row. The rule is initially disabled when created, and a tip will prompt the sheet owner or admin to enable the notification.

A sheet is eligible when it contains a single contact column and that column:
Does not have any data in it yet

Is not yet referenced by any notification rules
6. Charts Widget Enhancements
Charts on Reports
You can now add charts using data from your reports. Using a report as your data source will select the entire report and only allow you to filter the columns you want to include. You must have at least viewing permissions on the report to create a chart from the report.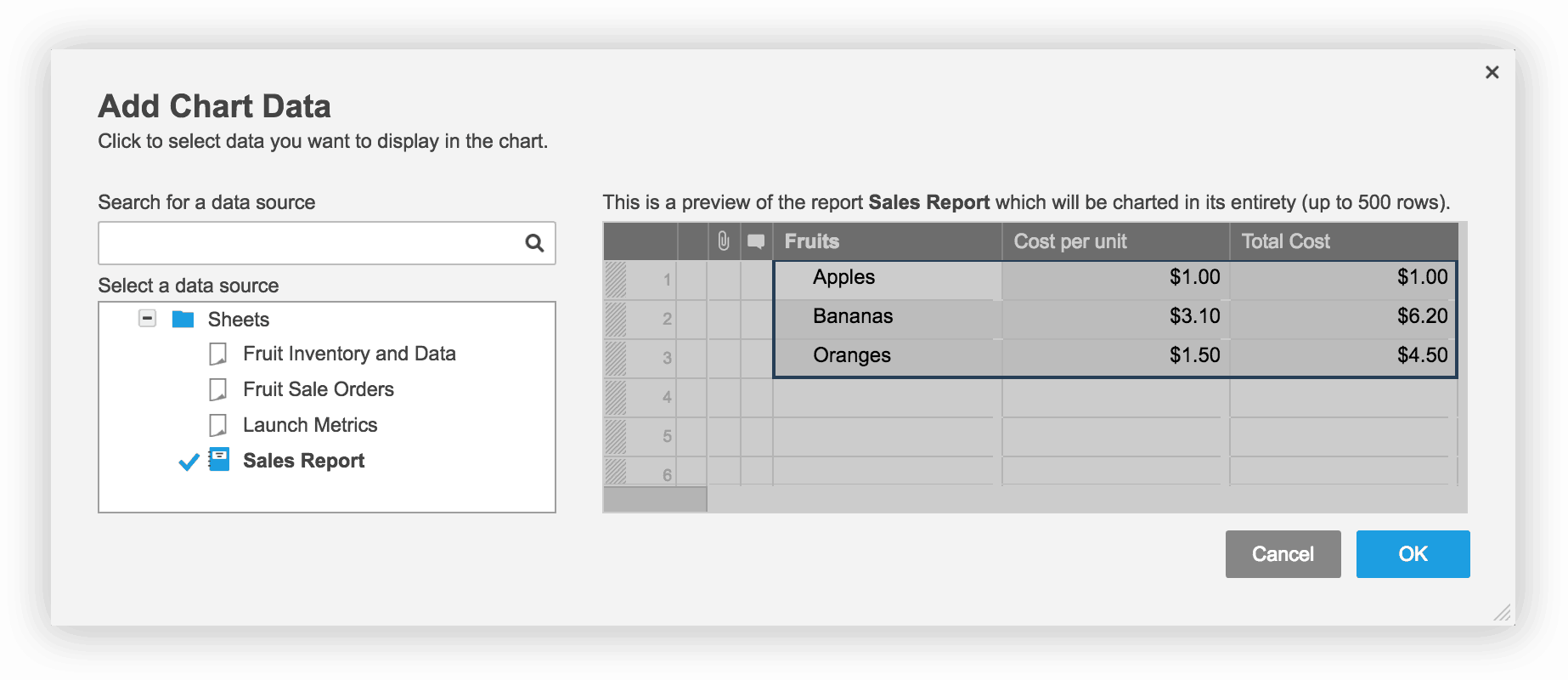 New Columns in a Range
When new columns are added in between a data range and the data range includes the entire column on both ends, the new columns will be included in the chart.
When new columns are added in between the charts data range and the data range does not include the entire column, the new columns will not be added to the chart.
Scale Includes Zero (0)
All charts will now include zero in the scale. You can exclude zero by selecting 'Scale to data values' when you configure the vertical axis in the Edit Chart widget.
Scale Padding
Charts with data points as percentages (%) will no longer included excessive padding.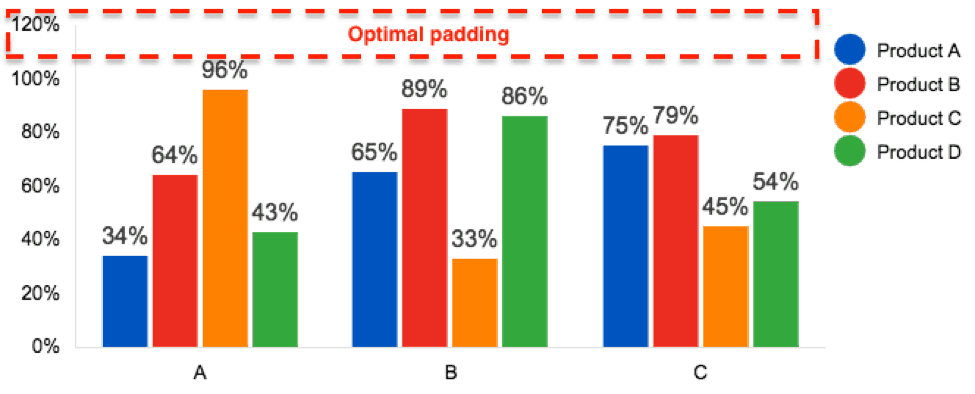 7. Other Enhancements
You can now import Excel or CSV files via the API.

The keyboard shortcut [CTRL] + 1 or [CMD] + 1 will no longer collapse the toolbar.

Smartsheet users will no longer be able to log in to Smartsheet using older versions of Internet Explorer 10 and Safari 9 browsers. If you use IE 10 or Safari 9, please update to the latest version.
8. Bug Fixes
| | |
| --- | --- |
| Feature | Description |
| Grid | Sorting rows by the Predecessor column on Dependency enabled sheets are now disabled. |
Archived Release Notes
You can access archived release notes here.